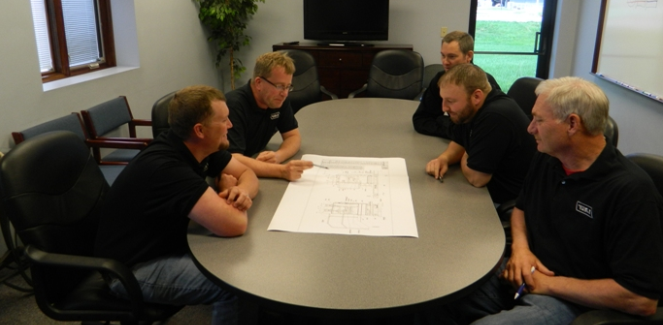 At Tuttle, Inc. we offer professional mechanical services for industrial design, fabrication, and installation. We provide hands on involvement from concept design to completion. However, if the client prefers we take care of just one or two aspects of a project. We let our clients choose what will work best for them. Our goal is to provide superior service and quality to our customers. Our success is dependent on the referrals we receive from our clients.
Our project management teams perform the following to guarantee the success of each project:
Communication. We listen to clients. We perform a thorough investigation of the customer requirements and specifications.
Design. A collaborative team effort is used. We offer clients several design options. Once the design is selected, it is then refined to incorporate any customer revisions, which results in a fully detailed plan of construction.
Fabrication. It is imperative that the fabrication team match project requirements with individual employee skill. This team stays with the project through all phases.
Installation. The fabricating team will also be the installation team. Their charge is to help the customer integrate new equipment with existing equipment. The most important role this team plays is providing start-up assistance.
Subcontract. If the need for subcontractors should arise, Tuttle Inc., will handle all the details of obtaining equipment and services.
Our experienced quality driven staff works together as a team with your staff. When the time comes for planning, implementing, and organizing an installation, our professional team comes to your location. It is their task to make sure your needs and expectations, budgets, floor space and goals are accomplished. Our team reviews projects with clients, provides competitive proposals including concept drawings, and works within budgets given. In the final step before fabrication begins, we provide acceptance drawings to ensure customer satisfaction and eliminate misunderstandings. Communication is an ongoing process and vital to the success of the project.
At Tuttle Inc., we like to make things easy for our clients. Our philosophy is to provide superior service and quality to ensure customer satisfaction. Our customers count on it and our success depends upon it. Client referrals play a big part in our future operations.